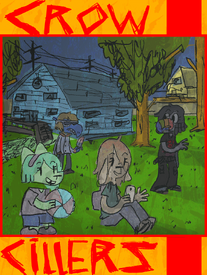 Crow Cillers is an ongoing monthly episodic comic series. It revolves around the titular team, who have formed to stand against the mysterious group "The Order of the Crow ".       
EPISODES
| | | |
| --- | --- | --- |
| PILOT | Episode 0 - Defiance of the Crow | When Emma and the principal's daughter Cortney are taken by The Order of the Crow, 'That Kid' must team up with an ex-member of the the Order to save them. |
| SEASON 1 | Episode 1 - Best Fiends Forever | The gang forms an anti-Crow force, but conflict between Emma and Cortney reaches a boiling point. Emma recruits a new member while Cortney's brothers reach out to her. |
| | Episode 2 - Marcus & Eye | Emma goes undercover to learn more from the mysterious Crow member, Brother Marcus. Meanwhile, the rest of the group tries to dig up more on the Order. |
| | Episode 3 - Campground of Carnage | The camping episode! Mostly a flashback compilation, involving Brothers Elaine and Marcus. |
| | Episode 4 - Sleepover Troubled Water | It's That Kid's birthday, so the gang has a sleepover. Meanwhile, Elaine explores Ynce Iche further from her hotel bed. |
| | Episode 4.5 - EMERGENCY FILLER EPISODE 1: FILLER INSTINCT | Doris and That Kid play a card game. |
| | Episode 5 - Iche-dependence Day | The gang celebrates Independence Day at the Corvidae house. Elaine Jr. leads Elaine past the point of no return. |
| | Episode 6 - Exclamation Marcus | Doris forms an anime club. Meanwhile, Marcus makes a bold move in his quest to understand Ynce Iche. |
| | Episode 7 - Amiss in the Dreamhouse | In the EXCITING CONCLUSION to Crow Cillers Volume 1, the gang is separated in Ynce Iche. Elaine Jr. is hungry. Someone returns. Guest starring special guests, Three4One! |
| SEASON 2 | Episode 8 - Back Season 2 School | Cortney adjusts to life with the Crow Cillers. A depressed Emma makes a new friend. Marcus has a new partner in crime. Elaine Jr. hatches a scheme. |
| | Episode 9 - Land of Intrusion | Mr. Nail is introduced. Meanwhile, Cortney bonds with Mintchip. Elaine Jr.'s plans hit a snag. The gang's anime club gets an unwanted new member. |
| | Episode 10 - Ciller Queen | Gretchen's mother stresses her out. Jamie and Emma smoke weed. Elaine Jr. is a fuckin liar. |
| | Episode 11 - Doing You a Flavor | That Kid hangs out with Jarod, and Elaine Jr. continues to use her as a puppet of sorts. Like a marionette. But as a person. Or something. Also: Mr. Nail has a conflict with his assistant. |
| | Episode 12 - Mi-Crow Cillers-Wave Planet Part 1 | CROSSOVER WITH THE HIT (CANCELLED) SITCOM MICROWAVE PLANET! Moya and Varg drive Gretchen and Doris to a concert. Emma and Jamie buy weed from Ru'mel. Cortney finds adventure in the school with Hall Monitor Steve. Some other stuff happens. It's a good time. |
| | Episode 13 - Mi-Crow Cillers-Wave Planet Part 2 | The gang wanders the school and keeps getting separated. Meowth-in-a-Dress and Gatomon-in-a-Dress search for crime. |
| | Episode 14 - Cross My Art and Hope to Die | Jamie collabs Doris on an art project. Three4One goes shopping. |
| | Episode 15 - Fanfic of Horror | Jamie reads Emma's "Simpsons" fanfiction. Meanwhile, Meowth-in-a-Dress and Gatomon-in-a-Dress write a fanfiction of their very own. |
| | Episode 16 - The Past & The Plur-ious | In the past, Neopolitan and Mintchip meet. In the present, Brother Mary makes a decision. Meanwhile, the In-a-Dress Gang does MDMA. |
| | Episode 17 - Happy Hall-Ennui | Chel throws a Buffy/Angle themed Halloween party. The Bloodwolfe decides to partner with Elaine Jr. The Crow Cillers decide to move. Mintchip quits her job. |
| | Episode 18 - Home is Where the Die Hard is | The Crow Cillers storm Mr. Nail's office building. Meanwhile, Doris and Gretchen help Chel with a hangover. Elaine Jr. asks for That Kid's assistance. |
| | Episode 19 - Escape from Puke City | The Crow Cillers gather the kids to leave town! UH OH! COULD THIS SPELL THE END FOR THE CROW CILLERS???? No because there's another season, but it's still a really good finale episode. You should watch it |
| SEASON 3 | Episode 20 - Das Reboot OR: Across the Expanded Universe | The Psy Squad searches for their leader. Marcus & Nail season premiere. |
| | Episode 21 - Home Sweet Crow | A surprise visitor arrives to see how the Crow Cillers have settled into their new home. The Psy Squad goes to the mall. |
| | Episode 22 - EMERGENCY FILLER EPISODE II: EXTERMINATING ANGEL-IN-A-DRESS | The In-A-Dress gang find themselves trapped in a house. |
| | Episode 23 - Crime and Pun-Iche-ment | Jill is put on trial in Ynce Iche court. The Crow Ciller Cociety tries to learn what the Crow is up to. |
| | Episode 24 - Question Marcus | Lord Marrow has a meeting with Marcus. Meanwhile, Doris and Jamie work on their zine. |
| | Episode 25 - Lifestyles of the Poor and Depressed | Varg's Ex stops paying the Crow Cillers rent, while the Psy Squad break into Rope and Nail Inc. in search of their leader. |
| | Episode 26 - FANFIC OF HORROR II | The In-A-Dress gang go to the movies. Crow Cillers characters are interviewed about their reviews for hit fantasy show Goblin's Crusade X. Final Bloodmaster Alpha and Lisa film a pilot. |
| | Episode 27 - One for Yes, Two for Crow | In the past two young crows decide the fate of Puke City residents. Cortney finally finds That Kid and is surprised at what she's been up to. |
| | Episode 28 - Use your Confusion | The Psy Squad continue their search. That Kid yells at Elaine Jr. and causes Ynce Iche to lose control. |
| | Episode 29 - Last Night a TV Saved my Life | The Psy Squad and Crow Cillers join up to explore Ynce Iche's realm and find Lord Marrow. Lisa breaks free and goes all out. |
| | Epsiode 30 - Last Night a TV TOOK my Life | The Psy Squad make their final battle against Harlyn. Sour Gummy makes their world premiere. Vince comes out and Hell eats a lotta ice cream. ANYWAY THE SEASON FINALE IS HYPE AS HELL SO STOP READING AND WATCH IT TODAY PLEASE! |
| | Episode 30.5 - Matrix Rev-Crow-Lutions Special | Emma wakes up to find herself in the Matrix Revolutions! Will she be able to make it through all the cyber stories in one piece? Tune in to find out! |
| SEASON 4 | Episode 31 - The thin blue Joslyn | The gang sells horses from the hit series "My Enormous Horse" and an unexpected guest arrives! Meanwhile the "shitty hand demon" is causing a ruckus. |
| | Episode 32 - Gaige against the Machine | More horse sales as well as a former foe joining the crew, with backstories aplenty! Speaking of crews, the Ru'Crew makes a quick appearance to Jill's dismay. |
| | Episode 33 - "PAISLEY: Proving grounds" of the small edgelord | Paisley makes unexpected new friends at school! Mr. Nail jumps into a new business adventure regarding horses. Poptart pal/Cryptid sheep gal is on edge for some reason, uh-oh! |
| | Episode 34: "The Elayne/Vince Project" | Elayne and Vince have an awful time in the forest. Puppet versions of friends and loved ones appear to cause terror. Welcome to Beloved Land, the most beloved place on Earth! |
| | Episode 35: "Retail Experiments Elaine" | Elaine gets a job with horses and boxes. Jamie joins in on the fun experience that is Beloved Land, while Beloved starts explaining her plan. Check out the new enormous horse to join the cast! |
| | Episode 36: "Mother Lee" | A certain crow is back in town. Beloved makes an important phone call, and you'll want to see what happens next! Paisley goes snooping around the Lee household. |
| | Episode 37: "Beloved or Leave It" | Fun times in Beloved Land come to a screeching halt. Ida gets special visitors and a meeting ensues. Elaine meets the "shitty hand demon". Emma discovers an old "friend" and a new place in the process. |
| | Episode 38: "Fanfic of Horror III" | Paisley's on the case to learn who exactly Emma is. Beloved finally finds the one she's been calling. Emma's makes peace with her old "friend" in the red dimension. And a nice bonding moment between Sour Gummy and the In-A-Dress Gang! |
| | Episode 39: "Ida's Hands" | Get ready for backstory scenes, featuring Ida and Joslyn! Beloved catches an aggrevating ride on the "shitty hand demon". Paisley explores dimensions as Heaven and Paris get back to school. |
| | Episode 40: "Who Moved my Ynce Iche?" | Master Vein puts on a game show to see who will win a lovely Ynce Iche prize! Paisley confronts her inner daemons. Joslyn finally answers the phone, and later greets a new-old-friend-enemy-monster. |
| | Episode 41: "Eye for an Ida" | The thrilling season finale! The poptart critter is aptly named Red Velvet for her color and exquisite taste in the finest of pastries. Joslyn and Emma deal with Beloveless in an epic battle of sorts! Paisley makes a new friend and finally gets outta the red dimension. |
| | DO YOU LIKE REFERENCES TO MOVIES? (Scream Special) | Grab some popcorn, it's time for another movie! See all your favorite characters from Sidney Prescott to Ghostface go on a stab-heavy adventure! |
| SEASON 5 | Episode 42: "Paisley The Homicidal Maniac" | Welcome to Piss City and a whole new season! Paisley grinds for the PSY experience while hanging out and having fun. The school becomes an anarchic trading card zone! |
| | Episode 43: "Miss Lee Loves Company" | Emma hangs out with her mom and tries to reconnect. Fresh Fries is up to tons of mischief, uh-oh! The In-A-Dress-Gang goes to a thrift store and we get that lovable scamp that is Red Velvet soon after! |
CAST
SEASON ONE
Pistachio - Former lead singer of Three4One, she now heads the Crow Cillers.
Neopolitan - Former member of Three4One, cold but willing to fight the Crow.
Mintchip - Third former member of Three4One, used to work for Mr. Nail.
Emma - From lamezine 1 and 2 she returns.
Cortney - The daughter of a Crow. She likes Britney Spears.
Brother Corvidae - Cortney's mother. Loves to cause pain.
That Kid - A kid.
Doris - Is very cool and good.
Gretchen - Callous at first.
Elaine Sr - Confused, but tough.
Elaine Jr - A mysterious manifestation.
Brother Marcus - A loyal crow. Who is not so loyal.
Elder Andrews - Disappeared awhile ago.
Jill - Back from lamezine 2 to clean up some barf.
Lil' King - The royal king. Stars in "Lil' King".
Aide Erin - She is done with all this. Appears in "Lil' King". Also known as the Royal Assistant.
Colleen - The dragon from "Lil' King" that mostly eats a lotta sweets.
Lisa - From the Simpsons to Crow Cillers just for fans like you! Except Simpsons gets canceled in this series so she's kinda alone for awhile.
Y2Crittler - Expert in all. Master of all.
Cosmo Brownies - If you squeeze these in your hand. You can make it look a like a little turd.
The Chips - Salted tortilla chips.
Howdy Crittler - Not much is known.
Vile Lemon - A lemon flavored energy drink. I think.
Oryos - The cookies.
Choco Star Bar - If you eat these, you're already a star!
SEASON TWO
Jamie - Emma's girlfriend. An artist. Likes Death Grips and foreign films.
Chel - Jamie's sister. Industrial goth.
Meowth-in-a-Dress - Meowth in a dress.
Gatomon-in-a-Dress - Gatomon in a dress.
Blaze the Cat the Drug Dealer - Blaze the Cat, the drug dealer. Comes into her own as Mallgoth Blaze the Cat The Drug Dealer in episode 16.
As Told By Crittler - I dont fuckin know but she really likes Monster Rancher i think
Brother Mary - Was a Crow ally with Brother Marcus, but left after she realizes he's kinda a monster
Mr. Nail - Head of Rope and Nail Inc. Horny as heck and plays the guitar.
The Bloodwolfe - Fucked up wolf with bloodlust and it can talk sort of.
Jarod - A little jerk who forced himself into the Crow Cillers
Cream-the-Rabbit-with-a-Gun - Cream the Rabbit with a Gun, doesn't speak unlike rest of In a Dress Gang.
SEASON THREE
Final Bloodmaster Alpha - Voice of "Magenta Rose" on hit series 'Crow Cillers'. DarkElaine227 thinks she's pretty cool.
Harlyn - Former leader of the Psy Squad, she's an overpowered asshole now. Joined the Crows.
Aria - Current leader of Psy Squad, takes her job very seriously and has the ability to displace projectiles such as knives.
Embry - Part of Psy Squad, has the ability to unleash a wave of brain-popping energy. Kinda puts herself down at times for feeling destructive, but Ambrosia keeps her feeling alright from beyond the grave.
Ambrosia - Was part of Psy Squad but is presumed dead by now? Still keeps in contact and power through Embry, and possesses the ability of material influence.
Coby - Easy going member of Psy Squad, once got distracted by hot salesladies. Has the ability to materialize objects.
Brother Ondine - Double agent of the crow, has a kickass sword.
Brother Joslyn - Leader of a group that spies on the Crows through its agents, pretty easy going and pretty.
Psy Elite Gaige - Jerk who works for the Crows as well as Harlyn.
Lord Marrow - Big bad of the Crows, an elder who likes to play by the book.
Yellow Rose - Goblin gal protag of hit show "Goblin's Crusade X", which is very popular in the Crow Cillers universe.
Brother Vince - He's not an important character but he's gay and freed Jill from her prison cell so he's cool in my book. Also dude really likes pop-tarts like holy heck???
Master Vein - Rich snob of the Crows, handles business and reaps the profits.
Elayne - A member of the Crow who's not really into it at all.
??? - Otherworldly critter with little information known about it.
Sour Gummy - Gal band duo bringing the hot tunes!
??? (Evil Hand/Curse) - Shitty PSY hand that just gives everyone a bad time. Who does it think it is acting like that?
SEASON FOUR
Paisley Wynn - New kid with cool skating tricks and an attitude, some relation with Elaine Jr. X.
Elaine Jr. X. - Back and better than ever, with a sick hoodie too!
Ida - An important figure in the "My Enormous Horse" market, mysterious and cold.
Brecken - Acquaintance of Sour Gummy and friend of the Ru'Crew, he's a master of claw machines.
Beloved Website Puppet Alpha - Internet's sweetheart, AOL stocks will rise as she sings and dances!
Heaven - A student who is an expert C.A.R.D.S. buyer, seller, trader, and the like.
Paris - Hired muscle for Heaven, she wields a death bat.
Miss Weeks - Dual-wielding knives and teaching you math with a flair of the Crow!
Fresh Fries - A "My Enormous Horse" doll that walks and talks thanks to PSY energy!