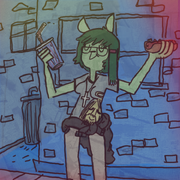 "School janitor who is doing a bit too much nitrous lately. Her primary objective is to have great weird sex with as many hot people as possible. She is sensitive about what she believes people think about her. Everyone actually thinks she's cool."
- Official Crow-acter Guide
Jill
 is a resident of Puke City who has appeared in Lamezine 002 and Hail Gay Satan, and has a role in Crow Cillers as a member of the titular group, along with Emma Lee, That Kid, Cortney Corvidae, and Doris E. Clark.
She works as a janitor at St. Puke City Elementary. She lives with Ru'mel, Somers, Varg, and her brother Moya.
Appearances
FIRST APPEARANCE - LAMEZINE 002
ALL COMICS APPEARED IN:
HAIL GAY SATAN [GUEST APPEARANCE]
Her bio on the Official Lamezine Official TCG cards says:

"JILL: sex explorer/tru christan fuck h8rs/LIFE is for PARTY"