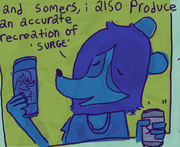 Varg's Ex is the nameless ex-boyfriend of Varg, appearing first in Lamezine 002. During his appearances, he often acts as a foil for Moya.
Info
Varg's Ex is a billionare drug dealer and brewery owner. Though frequently antagonized by Moya due to Moya's own relationship with Varg, Varg's Ex is always laid-back and benevolent, freely giving out his weed and Dog Cop memorabilia and participating in charity auctions. When the Ru'crew are confronted by Ynce Iche , Moya and Ru'mel call Varg's Ex for help; he provides them with a psychic strain of weed, which they name 'Li'l Lisas Slurry '.
His bio on the Official Lamezine Official TCG cards says:

"VARGS EX: once dated Varg! billionaire/alcohol and drug pioneer/endlessly polite somehow useless anyway"